Are you looking for a new web host that reflects your environmentally conscious personality? Do you want to stop giving your hard earned money to large, carefree web hosting companies that pollute the environment?
Do you want to feel like you are making a difference?
Sustainable Websites is exactly what you are looking for!
Sustainable Websites offer many of the same features that a larger, more established web host offers for a more reasonable price. We will start on the technical side. Sustainable Websites offers all of their clients 24/7/365 server monitoring, as well as daily and weekly backups. The also have multiple power sources and backup power on site, so a power outage will not have any effect on your website of data. If you have never had a power outage at you web host, this probably doesn't matter to you. But if you have experienced a disaster like a major power outage, you know how valuable these features are.
Here are some of the features that Sustainable Websites offers that may be more important to the average webmasters. Every plan includes unlimited POP email accounts, Unlimited MySQL databases, Unlimited Email Lists and Unlimited Subdomains. This is great, because you will not have guess how many databases or email addresses you will need as your website expands before you place your order.
One last feature that is definitely worth mentioning is the control panel Sustainable Websites uses.  Instead of using a cheap, basic control panel like many other small web hosts use, Sustainable Websites uses cPanel. If you are not familiar with cPanel, It's the best. That's all there is to say. Take my word for it.
Sustainable Websites offers three web hosting plans to its clients. Every hosting plan includes all the features that are mentioned in the above paragraph, and each plan only differs by the amount of bandwidth and storage space they offer.
The most cost effective plan is the entry level "Basic" plan. For only $10 per month,  you get 1000mb of storage space, 10gb of bandwidth every month.
For $10 more per month, the "Small Business" plan doubles the available storage space to 2000mb and doubles the bandwidth to 20gb per month.
If you want the top of the line package from Sustainable Websites, you will be paying $30 per month for the "Professional" plan. You get 3000mb of storage space and 30gb of bandwidth per month.
It is also worth noting that you can pay month to month, but if you pay for a whole year upfront, you get a 17% discount on each package. It's a great deal!
Sustainable Websites web hosting is a great fit for people who want a great website but are also environmentally conscious. With that being said, this isn't the place you will want to host a video download website or a forum with a large member base. Sustainable Websites is more suited to smaller, professional websites. One of the main benefits of Sustainable Websites is their size. They are the opposite of a host like Godaddy, where it takes 10 minutes to get someone on the phone. Sustainable Websites prides themselves in their personal relationships and customer service with their clients. If you want the customer service people to know you by your name, than this is the host for you.
Sustainable Websites offers great green services at a great price. They offer almost everything larger hosts offer, but are small enough so you can develop a personal relation with them. If you want to free yourself from the trap of large web hosts who pollute the environment, don't care about you personally and charge outrageous price, than Sustainable Websites is for you!
There are many web hosts to choose from out there. Unfortunately, not all of them are reliable or eco-friendly. GoodAvocado is one the few hosts that is not only reliable but is also very friendly towards the environment. As a matter of fact, we think it's a company run by a small group of super hippies, but that's just personal opinion.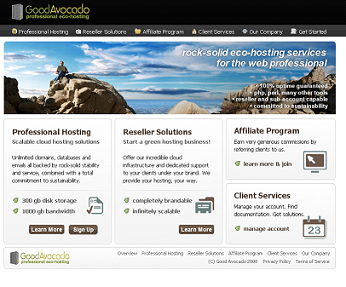 Just by taking a look at their website you can already feel their friendliness towards the environment. Even the colors reflect their passion towards nature and the environment. The first time I saw their website I thought it was some sort of national park. When I saw 1000GB of bandwidth the first thing that popped into my head was "Wow, the price is going to be at least in the two digits." And for a guy who merely wanted to host a personal site and on a tight budget this was not good. As the page loaded after clicking "learn more" I was relieved and excited to find out it was only going to cost me less than 5 bucks (4.99)! Most of the previous hosts I saw normally had set a cap on the amount of websites you could host at that price, but not GoodAvocado. They allow you to host unlimited websites and that's not all that's unlimited: MySQL databases as well as mailboxes are unlimited too. They also included an automatic software installer that had some useful scripts to compliment my personal site. However at the time I didn't think I'd be using it..
Anyway, before I placed the order I decided to see if this eco stuff was just a mere sales pitch as I was already intrigued by their generous hosting features. I found out that they used 100% carbon-neutral operations, used both solar and wind power, had tree-planting initiatives, and supported non-profit organizations. So those 5 bucks I'd be paying would not only be paying the hosting fee but also part of it would go to non-profit organizations. So in a way I'd be helping out non-profits and be hosting my personal site! How sweet is that?
Overall, I've been using their service for a couple of months now and have had no problems. I definitely recommend this host as not only is it reliable, but it's extremely eco-friendly as well. How many other hosts donate part of their monthly earnings to non-profits? Exactly.
Head over to Good Avocado for some awesome green savings on your new hosting plan!
DreamHost.com, one of the most well known web hosting companies on the planet, are still to this day offering great services in return for very little money. For instance, DreamHost can provide 500GB of free space and 5TB of bandwidth along with many other killer benefits such as unlimited databases, emails, ftp accounts and support for a multitude of other products for as low as $6/month.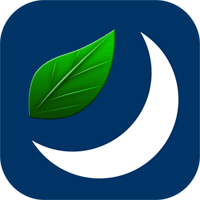 Most importantly, the first stage DreamHost.com took to go green was calculating the total amount of what they were wasting, and after they had finished calculating all the waste, they came up with t a total equivalent to 545 average sized homes. After they had the total of waste figures, they started thinking about how they could significantly reduce it, and they came up with some pretty easy and fundamental solutions:
1. Massive recycling from employees (cans, paper, scraps, computer parts, etc…)
2. Turning lights off whenever they can.
3. Using paper that was only used on one side.
4. Reduce vehicle usage.
5. To save even more energy, DreamHost has invested in "Emission Reduction Credits" that are selling non electricity emissions.
DreamHost really want to make a concerted effort to save energy and do all they can for the "green" cause, even if it means investing money to buy special credits for saving electricity. More web host companies should go green like DreamHost did, and they showed us it is possible to run a business while saving electricity and the environment at the same time. Can you imagine how much electricity and waste would be saved if all the major web hosting companies made a genuine effort to "go green"? It would be almost unbelievable.
At the DreamHost web site, you can find a page that is shows they are a green company, and even have an updated Certificate of Carbon Neutralization. DreamHost is one of the first companies that use green products to save energy and the environment – even if the costs are higher. They realize that saving the environment isn't always cheap, but well worth it in the long run, especially for customers that truly appreciate the efforts of such a large company. I am sure they will continue to save electricity and keep their green status, and I hope more and more companies will follow DreamHost's environmentally friendly example.
So what more can you ask for:
1. Great hosting and related services, at crazy low prices.
2. Massive effort to go green in a time we really need it.
If you're considering buying hosting anytime soon, then DreamHost.com should definitely be on your list. They even offer a free domain with most hosting plans, so you have no excuse!
Cheers to DreamHost for being a fantastically green company.
Additionally, if you enter the code "greenerbuyer" when signing up for hosting at Dreamhost, you'll receive MASSIVE discounts, and TWO free domain names, not one, but TWO!