Neuton Electric Mower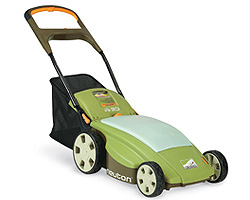 If the Reel Mower we previously posted isn't heavy duty enough for you, try the Neutron battery powered mower. Boasts some excellent features and still saves on emissions, pollution and gas!
The company claims the Neutron to be 95% recyclable and costs only 10 cents to charge the electric battery. This mower I've looked up on the web and its been featured in Popular Science magazine, and several news prints raving it as a super Green lawnmower. Unit comes with bag attachments, mulch plug,etc. The Neuton has a ton of accessories available for it as well including a weed trimmer attachment and a lawn striper. I find these two attachments amazing I've never seen those before. Although I don't go shopping for lawnmowers everyday. Is there other lawnmowers that have this?
Why is it Green?
No Emissions
No Gas
Reduced energy requirements
95% Recyclable!!
No point listing all the specs, use the link: Neuton Mower