Good Avocado Knows Green
There are many web hosts to choose from out there. Unfortunately, not all of them are reliable or eco-friendly. GoodAvocado is one the few hosts that is not only reliable but is also very friendly towards the environment. As a matter of fact, we think it's a company run by a small group of super hippies, but that's just personal opinion.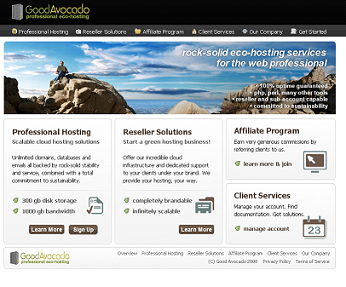 Just by taking a look at their website you can already feel their friendliness towards the environment. Even the colors reflect their passion towards nature and the environment. The first time I saw their website I thought it was some sort of national park. When I saw 1000GB of bandwidth the first thing that popped into my head was "Wow, the price is going to be at least in the two digits." And for a guy who merely wanted to host a personal site and on a tight budget this was not good. As the page loaded after clicking "learn more" I was relieved and excited to find out it was only going to cost me less than 5 bucks (4.99)! Most of the previous hosts I saw normally had set a cap on the amount of websites you could host at that price, but not GoodAvocado. They allow you to host unlimited websites and that's not all that's unlimited: MySQL databases as well as mailboxes are unlimited too. They also included an automatic software installer that had some useful scripts to compliment my personal site. However at the time I didn't think I'd be using it..
Anyway, before I placed the order I decided to see if this eco stuff was just a mere sales pitch as I was already intrigued by their generous hosting features. I found out that they used 100% carbon-neutral operations, used both solar and wind power, had tree-planting initiatives, and supported non-profit organizations. So those 5 bucks I'd be paying would not only be paying the hosting fee but also part of it would go to non-profit organizations. So in a way I'd be helping out non-profits and be hosting my personal site! How sweet is that?
Overall, I've been using their service for a couple of months now and have had no problems. I definitely recommend this host as not only is it reliable, but it's extremely eco-friendly as well. How many other hosts donate part of their monthly earnings to non-profits? Exactly.
Head over to Good Avocado for some awesome green savings on your new hosting plan!