Happy New Year Everyone!
Let's make it a green one! Its that time of the year again to make new year resolutions. The perfect time to commit to a new green plan. Whether it be using less energy, using green friendly transportation, to growing your own vegetables. Funny thing is, most green saving acts seem to save you money as well. So going green helps you in more than one way


Which search engine do you use? Google? Yahoo? Well here is a new one Eco-Search and it is GREEN. It harnesses the same results as Google search so you know your still getting quality, but all profit made from advertisements goes to environmental charities. So basically it is a non-profit search engine. Currently they are working on creating a similar Eco-Mall.
Their goal "on reducing pollution, helping to protect our natural resources and educating our future generations about the importance of protecting the environment"
Charities they fund:
If you know of another to be added email them.
What do they ask from you?
To spread the word about their search engine, use their search engine and just be green!
Heres the link: www.EcoSearch.org
Okay, so it's not exactly green news, but I just had to give a shout out to Michael Phelps, the all time, leading Olympian in the history of the world, ever. That's a pretty sweet title if you ask me.
To honor Phelps, I've made a little picture of how he feels: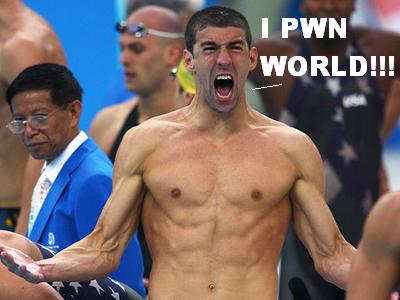 Congrats Michael Phelps, you really are the man!
So Friday is here, and already half way gone. Great!
For those of you who are new to this blog, or maybe new to green blogs in general, I'd like to start a new tradition here at GreenerBuyer.com where every Friday, I post links to really good stories – whether they be inspiring, thought provoking, sad, happy, great, terrible, or whatever. That way you can get a full platter of what's going on in the green world. Hope you enjoy these stories as much as I did!
1. Yale Grad Student's Off Grid Tiny House – This was a really cool article about a Yale Grad student who decided to take action and instead of blowing all her money on regular housing, spent it on something better.
2. Green Singles Dating Site – Are you looking for that special someone? Maybe you'll only date eco-friendly people, maybe only vegetarians…whatever the case, I'm sure you'll find them on GreenSingles.com. If you go green in no other way this year, at least date someone who is!
3. Jatropha Plant To Power Tractors – There are quite a few other countries out there that are growing millions of acres of Jatropha – which is a plant that produces perfect diesel fuel that can power any diesel engine without any processing whatsoever. Why aren't we doing this, people!??!?
4. Find Out Your Solar Potential – This may be the coolest site I've seen yet. Ever wondered just how much money a solar paneled roof would save your family? Have you ever wondered if it was viable to even think about setting up solar panels? Well, with this amazing site that uses Google maps to the extreme, you can find out for free.
5. Adopt An Acre – Do something nice with that extra bit of cash you may  have laying around. Head over to nature.org (a trusted site), and check out their "Adopt and Acre" program. There are many different types of land to choose from in many different countries. So it doesn't matter if you like mountains, or if you're more of a rain forest person, there are plenty of opportunities to help out

Five years ago, President Bush, in his State of the Union speech, announced a $1.2 billion dollar hydrogen fuel initiative in order to help reduce America's dependence on foreign oil. This was a huge deal then, because gasoline didn't cost near what it does today, and the announcement also stressed the reduction of greenhouse gases and other pollutants from vehicles, homes, and businesses.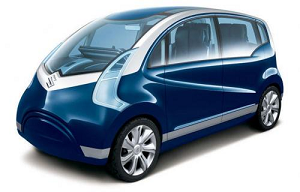 Manufacturers quickly jumped on board, and started producing hybrid vehicles that ran on hydrogen fuel and batteries. Since powering vehicles with hydrogen has multiple advantages, plenty of funding has flooded the scientific and engineering communities in an attempt to reduce costs to build and maintain hydrogen powered vehicles. Fuel cells, which are required to store hydrogen, are becoming smaller and more technologically advanced as engineers streamline the process. Hydrogen fuel continues to be something that will help combat $4.00/gallon gasoline, and gives countries across the globe hope in reducing costs and more importantly, dirty pollution, which plagues many major cities.
Hydrogen can be found in many places, and is available in water, coal, natural gas, and biomass. The DOE (Department Of Energy) states that hydrogen can reduce America's oil import demands by over 11+ million barrels per day, which is about how much we purchase per day currently. They say this can happen by the year 2040 – so it's a ways off, but with the exponential growth of technology, that number could possibly be reduced as we move into the future.
Vehicle pollution is a wildly growing problem in large and medium sized cities all over the United States, and the entire world. Hydrogen fuel cells generate electricity as opposed to gas to power an automobile, so this can significantly help reduce and eventually eliminate vehicle pollution since hydrogen emits only water vapor.     The DOE says that by the year 2040, by using hydrogen fuel cell vehicles, we could eliminate greenhouse carbon gases by over 500 million metric tons per year. I bet the planet Earth would be okay with that!
When hydrogen is burned to power and engine and generate electricity, the high efficiency ratio of hydrogen as a power source drastically reduces the nasty compounds that take a toll on our environment. So hydrogen powered vehicles, and anything else that requires electricity, can help us greatly to finally achieve a healthy, clean, and clear environment for us, and more importantly, our kids, their kids, and so on…
So the next time your at a dealership that sells hydrogen fuel cell cars, take pride in knowing that if you get one, you're one of the special people taking action to literally help make this world a better place to live in.