USB EarthDrive 2.0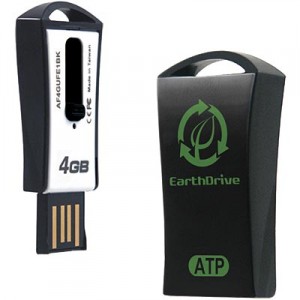 Hey everyone, here's an interesting one. A green USB thumb drive! The EarthDrive comes in two sizes a 4GB and an 8GB. The design and casing of the product was maximized to use the most bio-recycled material it could, making this product fully recyclable. A portion of the proceeds goes to American Forests and Global ReLeaf to help plant trees. This is one green USB drive!
From the Company: "Now, more than anytime in the history of our company, we are committed to creating products that take into consideration the environmental impact on our world and our global community." -said Michael Plaksin, ATP Vice President of Sales.
EarthDrive also comes with built in security allowing password protection of private files and drive partitioning. That's not all the stick is shock-proof, waterproof, and dust proof. Sounds like a good stick even if it wasn't green! It can be found at Costco.com for more info check it out.
Why is it Green?
Built using bio-recyclable material
Product is fully recyclable
Supports tree planting organizations