Sunwhisper/24 – Solar Powered Mulching Lawnmower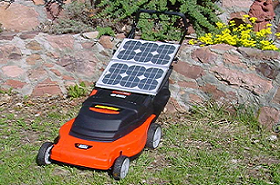 Attention all suburbanites, who wake up every Saturday morning to the hum of 32 lawnmowers buzzing simultaneously – the following product is one you need to pay attention to.
The Sunwhisper/24, made by the good folks at FreePowerSys.com, is a super quiet solar powered cutting machine! Basically, they took a Black and Decker cordless mower, and installed a solar panel to harness Mother Nature's free power source – the sun. Why isn't everyone using one of these? Good question, but after seeing the specs, the price, and what it can do for our environment, hopefully we can spread the word about this fantastically engineered device.
I mean, if you were to only choose one way to go green at your house, this would probably be a good choice. Why, you ask? Well, a study was done that states cutting grass with a gasoline powered mower for just one measley hour gives off the same amount of pollution as a 100 mile ride in your car. That's whack.
Here are the sweet specs of this high tech mower that will have you racing over to FreePowerSys.com to get one:
Use the energy of the sun to mow your lawn.
19″ blade ideal for large lots up to 1/3 acre
Powerful , easy to use with virtually no maintenance.
Always ready when you are.
No oil, gas, etc…cords to pull…smoke to breathe
Its quiet,  mow by day or in the cool of the evening.
Ships,  and runs,  anywhere in the world.
Assembles in only 10 minutes with no tools req.
Pays back full investment in under 3 years*
Competitively priced at only $695.00 *
Includes a rear bagger excellent for mulching leaves.
Now, when they say that it will pay back on the full investment in under 3 years, they're taking into consideration gas, oil, repairs, labor, and wear and tear. Considering the price of gas these days, I'd not only say that was accurate, but also probably a little overshot. With $4/gallon gas, and the rate that grass grows during the summer, you may get it back in less than that, but we'll leave that to you.
Overall, this is a fantastic piece of garden machinery that really could make an impact if more people were to follow suit and either buy this one, or something comparable. Just imagine even 1,000,000 people switching to a solar powered mower – how much pollution would that eliminate? A lot.
On the other hand, if you're more of the inventive type yourself, and want to try your hand at converting a lawnmower to solar powered, be sure to check out this article that explains how.
Cheers to FreePowerSys.Com for creating a necessary tool for everyday use.