Solar Powered Bluetooth Headset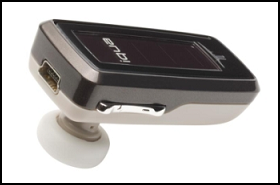 Perhaps one of the coolest green gadgets to date, someone really had their thinking cap on when they thought of the Iqua Sun – the world's first solar powered bluetooth headset. Batteries are sooo 2006. Get with the times and harness the sun's energy to power your nifty and annoying gadgets!
With a simple and very modern look, the Iqua Sun is actually a pretty sharp and attractive headset (if there is such a thing). It draws power from the golden sun above, and don't worry, it can soak up indirect sunlight just as well. Weighing in at only 14 grams, you'll forget it's even there, which is always nice, especially when it comes to trendy head gear.
In the dark? Don't worry, because with over 200 hours of stand-by time, it also stores 9 hours of power for use in complete darkness, so unless you live in Alaska, that's usually enough time to make it through the night and to the next sunrise. Vampires – beware.
Here are some of the manufacturers stats for: The worlds first solar powered Bluetooth headset
Energy efficient design
Compatible with a range of devices, including mobile phones, PDA's, and personal computers (with a blue tooth PC adapter)
No ear hook ensures comfort
14 grams
9 Hours talk time in darkness
Up to 200 hours standby time
So if you're ready to go green in a really cool, and really futuristic way, then you might want to consider picking up this little hotrod from Amazon. It'll only set you back about $60, and if you're truly concerned about doing your part to conserve energy, it's a small price to pay.