Sharp Aquos 20-inch LCD HDTV – Green!
If you're looking for a television, chances are, you're going to be bombarded with choices. "Do I get this one or that one? Do I get a LCD or a normal? HDTV? What?" If those are questions you're asking, do not fret…Everyone asks them. But, include another question in that list: "is it environmentally beneficial?" That will limit televisions down and then you'll start to see that some really stand out for you.
One of those televisions is the Sharp Aquos LCD HDTV. This TV really is great if you're looking to watch a movie or if you're looking to just enjoy yourself watching television. Because of the size and the fact that it is wide screen, watching any movie really becomes a great time because of how crystal clear the LCD and HDTV mixed together is. Both alone are great, but when you add the two components together, it is absolutely fantastic.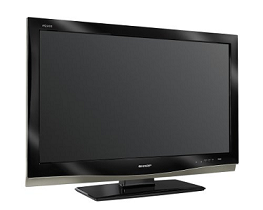 When looking at price, though, you just can't beat it. Four hundred and thirty dollars for this television is just too good a deal to pass up. You're getting a clear looking tv, the ability to watch widescreen movies and then you're getting to do a good thing for the environment. Now, I am sure you're asking how you can help the environment, so let me answer that for you.
When Sharp made this television, they went in and designed a component that made it incredibly energy conservative without taking away from the overall picture. Because you are using less electricity while watching a movie, you are spending less money on your electric bill (it may not seem like it from month to month, but look at it yearly and the savings do add up). But more importantly, you're using less electricity so less energy is used and that means less CO2 emissions into the atmosphere. Whatever part you can do to help the environment truly is a great thing.
So, if you're looking for an inexpensive television and one that will give you a good experience and an environmental good feeling, check out this television. This reviewer gives it an 8/10. I would have liked to see them use recycled plastic for it, but the energy thing is still great!