Save the world, with Toilet Paper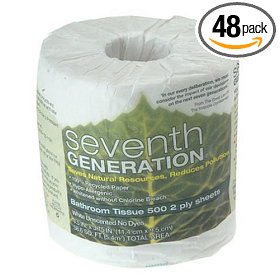 How many times do you go the bathroom every day? How many times do you use toilet paper? Probably quite a few and it is quite wasteful to the environment. But you have to use it right? There aren't many alternatives. Although there is that Japanese toilet that requires no toilet paper but let's leave that for later. Fear not now there is a green toilet paper by Seventh Generation. That's right! Now you can become green on the toilet. This green toilet paper is 100% recycled, not bad eh? Wait there's more… the process to whiten the toilet paper is also environmentally friendly, as well free of dyes, inks, and fragrances. Seventh Generation toilet paper is also safe for septic systems. Now that's some green toilet paper! Reviews have said the toilet paper is reasonably soft and comfortable. Any of you tried it yet?
This looks like a super way to turn green or become greener, especially since you use it every day. Every little bit helps. Imagine if everybody used this stuff!!
Why is it Green?
Made from recycled material
Environmental friendly whitening process
No-hurtful additives added