Samsung LA40A550P1 – Energy Star Compliant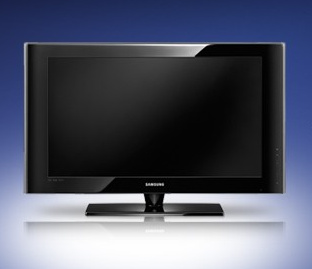 After Samsung released high-end series 650 which was also known as series 6, they decided to roll out an affordable series. This is the Samsung's new A series which is commonly known as series 5. We got a LA40A550P1 for review. This series cost under $2500 and is very affordable for the quality. However, Samsung has tried its best to not to compromise on the quality of output.
Design
As we open the box, there was no surprise because the model had a glossy finish and was completely black. This is a typical Samsung look and most of the high end models also have similar design. The bezel was broad and the stand also had the similar finish. We were surprised because there were not many ports on the rear. We could just find a small window with input and output at the bottom right. The sides of the bezel had a silver finish which gave the model a stylish look. Samsung has kept this model very simple in design yet it looks stylish and classy.
The front panel has a simple Samsung logo in the center of the panel below the screen. The Samsung model gave a very pleasing look. It has touch-sensitive controls on the right side of the Samsung logo. This is one of the few models in this range to have touch sensitive controls. We are happy to see that Samsung has not compromised on features in mid-range models also.
Features
Samsung has provided good connectivity features. This model had 3 HDMI ports, PC in which is also known as VGA in or Wiselink, AV in and out ports. There is one audio out. However, we were shocked when we could not find a headphone out. This feature is essential when playing games or watching movies and someone is sleeping besides you.
The LA40A550P1 has a 40-inch screen with full HD 1920 x 1080 pixels. It has a contrast ratio of 30000:1. We find the picture to be sharp and response time was 5ms, which is good.
It has a digital picture which compiles with HD Tick certification. Samsung has also provided a color enhancer which displays the primary colors accurately and makes sure that the picture is truly natural. The remote control is also good. All the buttons can be gained access to easily and there is good space between them. However there are no LEDs which mean that you need to peep hard into your remote control for finding the buttons.
Samsung has provided a DNIe+ image processor which can provide advanced images. Samsung also claims that it enhances the display of motion images. This model comes with three entertainment modes optimized for Sports, Cinema or Gaming.
This model can be easily mounted on wall and comes with auto wall mount support. The weight of the model is about 20 KG so you can easily shift it from one wall to other.
Performance
Samsung has provided a new menu system with the new models. Now it's possible to tweak any settings. You can adjust gamma settings, backlight settings, brightness, contrast and temperature. There are also other regular options which are found to tweak other settings like brightness, color etc.
We played a HD DVD on this model and we were surprised that this series has similar features and picture quality which is found in high-end models of series 6. The controls were pretty similar and we were happy that LCD of middle range are also completely equipped.
We saw the quality of picture degrading when we increased the sharpness. We could not see any changes in the sharpness but could find lines on the screen as we were increasing the sharpness. So we recommend that sharpness is very good by default and don't try to change it.
The color and contrast were awesome. We could see the changes when we were tweaking the contrast and color. The motion pictures are also displayed very smoothly and we could not find any jaggies. We played James Bond Casino Royale and the pictures were pretty smooth.
We also connected a PS3 with this LCD and played the famous game counter strike on it. We also played Grand Theft Auto. We conclude that color and contrast are simply great. Motion pictures are as clear as series 6 which cost more than $5000.
We also connected this model with Dell Laptop via HDMI port. We displayed some PPT files. The text display was great. We found the text to be a bit unclear initially but after adjusting contrast ratio everything was fine. We also played a movie and the display was good. We still think that Samsung could have improved the display of moving pictures.
The sound output was simply great. Samsung uses SRS TruSurround XT. The sound was 3D and we heard it from every corner of the room, we found it same everywhere. This model truly gives a feel of digital cinema hall. It has two NiCAM speakers each having 10W RMS.
We also tested, Picture in Picture mode and found that second window can only display input from your satellite TV. We were a bit disappointed as you cannot watch two movies on this model simultaneously. Maybe it's because Samsung does not want to compromise on quality from HD sources.
This model is not one of those which require very high power consumption. It requires just 240W and consumes less than 1W on stand-by mode. Samsung has also provided auto volume leveling which can be seen as a good alternative of noise reduction. We could find that there was no noise and so we are giving credit to this technology for no noise.
Conclusion
We consider this model as a revolution in middle range LCDs. It has great color and contrast. However fine details are just average and display of motion pictures can also be improved. Sound quality is good, however there was no noise reduction we could not find any noise and we were impressed by auto volume leveler. The SRS surround sound effect is great and is better than few high-end LCD as well. The voice is clear and we could easily understand human voice even if there was noise in background. The model is priced at $2000 and we think Samsung has provided very good features in this range. Samsung has focused on middle man. This model is best in its own category and beats Sony Bravia model of this range as well. It's good in $2000 and worth every penny spent in buying it.