Reusable Grocery Tote Bag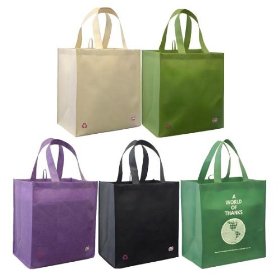 Here is a great way to go green, by using re-usable grocery bags. This is great because it something you will use often and can make a big difference in terms of product waste. No more box of plastic grocery bags sitting around your house or having bags tossed in the garbage after every grocery trip. Re-usable grocery bags are cheap and easy to store. They can carry more then a traditional plastic grocery bag, somewhere along the lines of those rectangular brown paper bags. They can be cleaned if you spill something in them or cheaply replaced. The bags are easily readily available to purchase at most larger grocery stores. Saves the stores money too not having to use thousands of plastic bags. Heck, maybe they'll lower their grocery prices!
Why is it Green?
Reduce manufacturing of thousands of plastic bags.
Reduces household waste.