Ipod Video – A Green Product?
After using a CD player and a bunch of cheap MP3 players which could hardly store a hundred songs I decided to get an iPod Video. I was highly satisfied once I got it. And instead of worrying about what songs to keep, I was worried about running out of songs to put inside! At the time the 30GB was the latest model but nowadays you can get more storage. But believe me unless you have thousands of CDs you'll probably be able to fit your whole music collection into the iPod.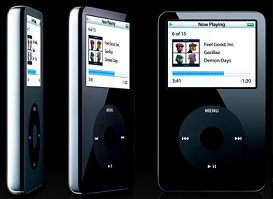 As for the sound quality, it's great and you can do more than just play music. You can also play games on your iPod, store pictures, and watch videos. The games that it comes with get kind of boring after a while though. I recommend getting Pacman or Tetris which can be obtained via iTunes. In case you don't know what that is, it's the software that comes with your iPod and if you happen to lose the CD you can just download the latest version online. That software will sync your music along with anything else you can store on your iPod.
But Is It Green?
Anyway, now for the green stuff. Being an eco-friendly dude I wasn't going to purchase just anything. I did some research on it before pulling my wallet out to pay for it at the counter. To be honest I was expecting it not to be eco-friendly. Luckily, my expectations were wrong. While it might not seem that buying this little device contributes to well being of the environment it actually does. Why? Well for one it cuts down on the manufacturing of CDs/DVDs as they can easily be bought in digital format via iTunes. Another thing is the life span – iPods generally last longer than a conventional CD player. Since it has a built-in rechargeable battery you don't have to keep buying new batteries that you'll later have to throw away and will eventually rack up at the local landfill. Last but not least, iPods are RoHS compliant which means they have reduced or eliminated hazardous materials such as lead, arsenic, etc. Not to mention that Apple has recently cut down on packaging material, which saves millions of pounds of cardboard (trees) and plastic.
It's good that Apple has made sure their name is well as I would have been really disappointed in them to have such a name and be a threat to the environment. Overall the iPod Video is not only helping you enjoy your music but the environment as well.