Introducing The AQUS Water Saving System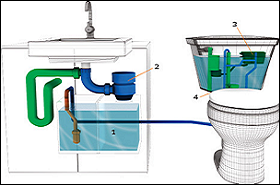 Flushing a toilet is one of those things that you'll probably do a couple times a day for the rest of your life. Multiply that by the three other people in your house, and if you do the math, you'll know that it can add up to quite a bit of flushing! As a matter of fact, our bathrooms account for roughly 74% of total water usage, and to really put it in perspective, 40% of all domestic water consumed is used to flush toilets.
Now that we've established just how much water is being used each day in America to flush toilets, you'll know why the good people at WaterSaverTech.com have brilliantly constructed the ultimate way to go green in your home – the AQUS water saving system.
AQUS uses water from your bathroom sink to flush your toilet. Just take a minute and think about how much your bathroom sink is used (hand washing, shaving, brushing teeth, etc…). All that water you're putting down the drain can be filtered and strategically moved to a reservoir that's used to flush your toilet – saving the average two person household around 10-20 gallons per day, or 5000 gallons a year. Four person household – even better!
The AQUS is easy to install, it's hidden from view, tightly tucked inside the vanity below your sink, and works in conjunction with standard bathroom pipes. Filters are in place to prevent hair and other particles from entering the resovoir, and purification tablets are also used to control bacteria. So it's a neat and clean operation that will really make an impact on your water bill, and more importantly – the world.
Check out these statistics, reported by EPA's Office of Water:
According to the U.S. Environmental Protection Agency's Office of Water, more than 4.8 billion gallons of water is flushed down U.S. toilets each day. The American Water Works Association estimates that if water–saving features were installed in every U.S. household, water use would decrease by 30 percent. That would reduce daily water used by about 5.4 billion gallons, resulting in $113 million dollar–volume savings a day.
So if you're genuinely trying to make an impact on our world by saving energy and living more "green", then this would be an affordable, money saving, and environmentally perfect way to go green today. That's the cool thing about living greener – usually there are steps you can take this very instant to do your part. The AQUS is no exception, and I highly recommend you head over to their site for more information.
Cheers to WaterSaverTech for selling such a brilliant device